CSR will be releasing its newest White Paper, the Development of Modern Steam 4: Advanced Internal Water Treatment, to its Supporters later this week (one benefit of being a CSR Supporter is receiving advanced copies of White Papers). The paper will be released to the public in mid-February.
On this #TechTuesday, we wanted to take a moment to discuss the unique history of French State Railways'(SNCF) Class 141-R, a series of more than 1,300 U.S.- and Canadian-built 2-8-2's used overseas. Covered in greater detail in the upcoming White Paper, the 141-R served as test bed locomotives for an advanced internal boiler water treatment that eventually led the way to that which CSR's Director of Engineering Shaun McMahon has been utilizing in locomotives for the past 24 years. Of note is that this predecessor treatment resulted in a 90% reduction in boiler maintenance, allowing the locomotives to operate in excess of 1,000,000 kilometers with next-to-no boiler maintenance issues!
When the French entered the World War II, the country had more than 17,000 operable steam locomotives to haul its trains - shortly after Liberation, however, only 3,000 remained in operation. The SNCF needed a rugged, light-weight, and powerful dual-purpose locomotive to aid in reconstruction, and they turned to North America for a solution.
That solution evolved into the 141-R, a 256,000 pound 2-8-2 (known as 141 in France where steam engine configurations are designated by axles not wheels) that could pump out 44,500 pounds of tractive force through its 65 inch driving wheels. These locomotives were without a doubt the most advanced 2-8-2's ever manufactured in mass quantity (1,340 were manufactured by a combination of ALCO, LIMA, Baldwin, and MLW between 1945 and 1947, but 17 were lost at sea with their ship during a storm).
Locomotives 141 R 1 - 141 R 1100 featured traditional U.S.-style bar frames, spoked driving wheels (save for the main drivers, which were Boxpok) and roller bearings on lead and trailing trucks, as well as on the tender trucks. The exciting developments came with 141 R 1101 - 141 R 1340, which were equipped with the latest in technologies, including:
One-piece cast steel frame;
Roller bearings on all engine and tender axles;
Boxpok wheels on all driving wheels;
Chapelon-invented "Kylchap" Exhausts straight from the factory;
Open-type feedwater heaters;
North American multiple throttle front end; and
All other advances afforded to larger locomotives in the U.S. and Canada at the time.
The photographs below, courtesy of Creative Commons, show many of the advanced features of the 141-Rs.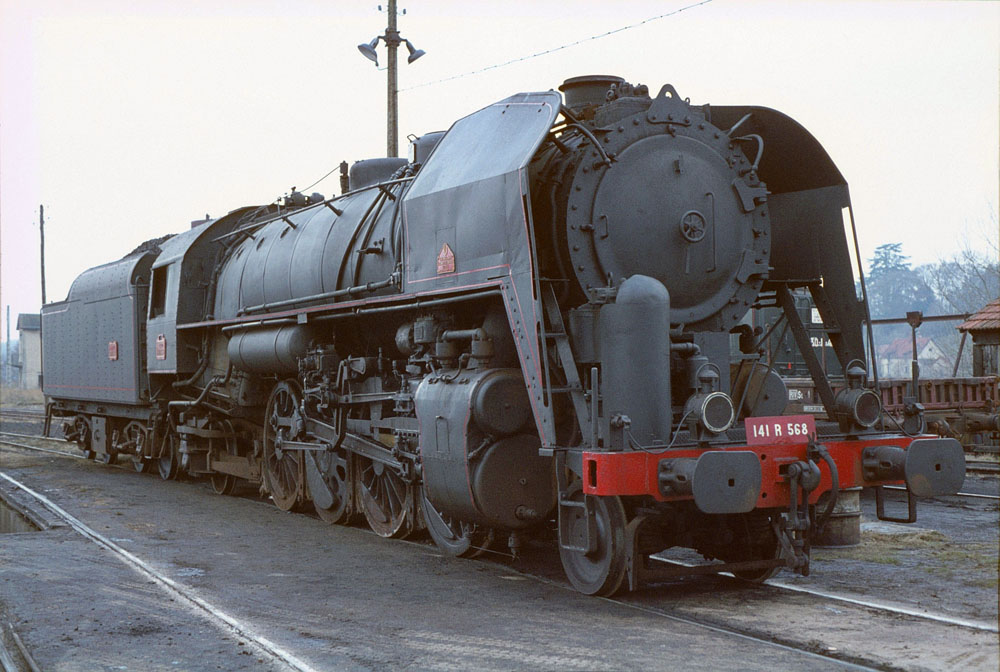 The locomotives were found to be incredibly reliable and robust by many at SNCF. At the time, many locomotives previously in service in France had been of more-than two cylinder design, often compounded with inside and outside cylinders (see CSR White Paper on Chapelon), which often led to higher maintenance costs.
By means of comparison, the following table shows the difference between the SNCF 141-R and Southern Railway 4501 here in the U.S.
| CATEGORY | SNCF 141-R 1199 | SOU 4501 |
| --- | --- | --- |
| General Classification | 2-8-2 | 2-8-2 |
| Service | Dual Service | Freight |
| Fuel (Current) | Oil | Coal |
| Builder | Baldwin | Baldwin |
| Year Built | 1947 | 1911 |
| Tractive Force, lbs. | 44,500 | 53,900 |
| Weight in Working Order, lbs. | 256,000 | 272,900 |
| Length, Wheelbase, locomotive, ft.-in. | 79-2 | 77-1 |
| Boiler Pressure, lbs. (Designed) | 220 | 205 |
| Firebox Grate Area, Sq. ft. | 55.5 | 54 |
| Engine (Bore x Stroke), in. | 23.5 x 28 | 27 x 30 |
| Driving-wheel Tread Diameter, in. | 65 | 63 |
The 141-R locomotives operated on SNCF from 1945 until 1975. Fortunately a number of 141-R's have been preserved, of which at least six, four in France and two in Switzerland, are in operational condition. The video below shows one of the Swiss locomotives in service a few years ago.
Check Out 141-R 1244 In Action in 2012
Stay tuned for the release of CSR's newest White Paper in mid-February.